January 6, 2017
How to Adopt a Dog from the Atlanta Humane Society
By:
The Atlanta Humane Society (AHS) is a nonprofit organization that's been Atlanta's main animal charity for more than 140 years.  Since AHS was first established over a century ago, it's grown into a combination vet center, educational resource, and pet adoption center all in one, finding thousands of permanent homes for dogs and cats each year.  If you live in the Atlanta area and are thinking about getting a dog, AHS is a great place to get started.   In this article, our Atlanta dog sitters cover all the info you need to know about adopting a shelter dog from the Atlanta Humane Society, including phone numbers, hours, fees, and adoption policies. 
Atlanta Humane Society Hours, Location, and Contact Information 
There are two AHS locations where you can adopt a dog: the Howell Mill Campus, or the Mansell Campus.  Which is convenient for you?  Compare them below to find out.  
Howell Mill Campus – The Howell Mill Campus features 37 puppy pens and 64 large dog runs, so there are always plenty of dogs and puppies looking for their forever home.  The campus also features several play yards and "meet-and-greet" rooms, so you have time and space to interact with the dogs and get a sense for their personalities.  In some cases, AHS actually requires meet-and-greet time before allowing an adoption.  

Hours – 12:00 P.M. to 7:00 P.M. on weekdays, 11:00 A.M. to 6:00 P.M. on weekends  
Contact – (404) 875-5331 
Location – 981 Howell Mill Road NW  
Atlanta, GA 30318  
Mansell Campus – The Mansell Campus is a relatively new addition to AHS.  It features a recreation area with enclosed runs for the dogs to get exercise and fresh air.  Like the Howell Mill Campus, the Mansell Campus includes "meet-and-greet" spaces to spend time interacting with the dogs and puppies.  As with the Howell Mill Campus, AHS may require a meet-and-greet prior to adoption.  

Hours – 12:00 P.M. to 7:00 P.M. on weekdays, 11:00 A.M. to 6:00 P.M. on weekends  
Contact – (404) 875-5331 
Location – 1565 Mansell Road  
                     Alpharetta, GA 30009  
In addition to calling either campus at the 5331 number listed above, you can also send an email message to any of the following email addresses:   
Main Contact – contact (at) atlantahumane (dot) org 
Howell Mill Campus Adoptions – hmadoption (at) atlantahumane (dot) org  
Mansell Campus Adoptions – mcadoption (at) atlantahumane (dot) org 
How Does the AHS Dog or Puppy Adoption Process Work?  
Here's how the AHS pet adoption process works:  
You visit the Howell Mill Campus or Mansell Campus (and fall in love with one of the dogs or puppies up for adoption!)  
You'll be required to complete some paperwork before the adoption is complete, including a questionnaire you'll need to fill out before you're permitted to adopt.  With waiting time factored in, the paperwork takes most people roughly an hour to finish up, so be sure to carve out at least an hour or two for your visit.  You won't be able to quickly pop in and pop out, so don't plan on dropping by before work or between errands.  
Once all the paperwork is squared away, you make your payment using cash, credit card, or debit card.  Adoption fees are as follows:  
Puppies (Under 6 Months) – $265 
Dogs –$125  
Senior Dogs (Over 5 Years) – $75 
"Underdogs" – $50  
"Underdogs" are dogs that have been at AHS for more than six months.  Since AHS wants to encourage people to give these dogs permanent homes, their adoption fees are drastically lower than the fees for other dogs (particularly puppies).  You can check out the latest underdog in the spotlight by entering the URL atlantahumane (dot) org (slash) underdog (dash) catch (dash) of (dash) the (dash) week, or simply clicking this link.   
The adoption fee is a great deal that covers all of the following services and pet accessories:  
Collar  
Deworming 
Four-pound bag of food  
Health exam (conducted within five days of adoption)  
I.D. tags  
Spay/neuter  
Starter vaccinations  
Additionally, there are a few more pieces of information you should know before you try to adopt.  
You must be at least 18 years old to adopt a dog from AHS, so be sure to bring a valid photo I.D., preferably a government-issued I.D. such as a driver's license or a passport.  
Technically, each campus is open until 7:00 P.M. on weekdays and 6:00 P.M. on weekends.  However, daily adoptions finish at least half an hour before closing – sometimes earlier, if it's a busy day.  
Afternoons are usually the busiest time, so you might want to try coming early or late in the day for a shorter waiting period.  Be sure to bring a book in case the wait time is long!  
AHS will not reserve or put animals "on hold" for you.  With rare exceptions, dogs are adopted out on a first-come, first-served basis.  
Make sure you bring the appropriate form of payment.  AHS does accept cash, credit cards, and debit cards.  AHS does not accept checks.   
If you're a renter, be advised that AHS reserves the right to contact your landlord to confirm that dogs are allowed in your apartment.  
Even if you're not able to adopt, there are still other great ways to help shelter dogs in need.  For example, you can:  
Donate to AHS  
Temporarily foster a dog  
Volunteer with AHS 
You can find information about all of these alternatives to adoption, plus any other questions you need help with, on the AHS website.   
8 Ways to Volunteer with AHS and Requirements for Applicants
Don't feel too bad if you can't adopt a dog right now. You can still help out by signing up as an AHS volunteer. Sure, it might not be quite as fun as having your own dog to snuggle with; but until you're able to welcome a pet into your household, volunteering is a great way to contribute to improving dogs' lives. AHS is almost always looking for volunteers to join the cause, so your time and effort is sure to make a positive impact.
There are eight different ways to volunteer with AHS, so there's a niche for just about every dog lover. Which of these volunteer positions are you most interested in filling?
Administrative Assistant Volunteers

Role – Performing data entry and office work.
Requirements – Being at least 18 years old with "legible handwriting and recording ability."

Adoption Volunteers

Role – Walking and socializing the animals, talking to the general public.
Requirements – Being at least 18 years old, having at least six free hours each month, and having "good communication skills and a desire to work with the public and animals."

Animal Admission Volunteers

Role – Bathing animals, filling out paperwork, and processing new animals as they arrive.
Requirements – Being at least 18 years old, having office work skills, and having "the ability to work with the public and assist staff in assigned areas."

Foster Care Volunteers

Role – Temporarily adopting animals that are not yet adoption-ready, such as unsocialized dogs.
Requirements – Being at least 18 years old, agreeing to a check of your home, and having "a home set-up that will facilitate special-needs animals."

Greeter / Shop Assistant Volunteers

Role – Answering adoption questions and helping people pick out pet supplies.
Requirements – Being at least 18 years old.

Photographers / Videographers

Role – Filming and/or taking photos of the animals on a weekly basis.
Requirements – Being at least 18 years old.

Special Events Volunteers

Role – Helping with special events AHS puts on, such as setting up and giving attendees directions.
Requirements – Being at least 18 years old, being able to meet deadlines, and being "flexible with job assignments."

Visiting Pet Program Volunteers

Role – Handling animals during visits with people who are hoping to adopt.
Requirements – Being at least 18 years old, having valid insurance, having a valid driver's license, having the ability to "confidently and comfortably handle animals," having the ability to "relate to geriatric, pediatric, handicapped and emotionally disabled clients," and having enough free time to make a monthly commitment.
In addition to the role-specific requirements listed above, you'll also have to meet additional mental, emotional, and physical standards that AHS requires of all volunteer applicants. These standards are described in detail at the bottom of the AHS application form, which is explained in the next section.
How to Become a Volunteer at the Atlanta Humane Society: The Application Process
So, now that you know about the different types of volunteer work at AHS, how does the process of becoming an AHS volunteer work? What's the first step to get started?
In order to become a volunteer for the Atlanta Humane Society, you'll need to submit a volunteer application. The application forms are available through AHS' website. Make sure you choose the correct type of form, because there are two different versions depending on whether you want to volunteer at the Howell Mill Campus or the Mansell Campus.
To submit an AHS volunteer application to volunteer at the Howell Mill Campus (which is located in Atlanta, to refresh your memory), simply follow these seven steps:
Navigate to the AHS website using the orange link above.
Hover your mouse over "Get Involved." A drop-down menu with links will appear.
Hover your mouse over "Volunteer," and click the link that says "How to Become a Volunteer."
Scroll about halfway down the page until you see the sentence, "To complete a volunteer application for our Howell Mill Campus…"
Click the link that says "Click Here." This will open a new page with an application form.
Double-check your application once it's finished.
When you're happy with your completed application form, check the "I Agree" box at the bottom of the page. Then, click the green "Continue" button, and simply follow the prompts.
If you think you'd prefer to volunteer at the Mansell Campus, which is located in Alpharetta, follow steps one through three above. When you get to step four, simply make sure you select the link to the Mansell Campus application instead of the Howell Mill Campus application.
The application itself is quite detailed, as AHS wants to ensure that all volunteers will treat the animals with care and respect. Carve out at least 20 minutes to complete the application thoroughly. In addition to supplying some basic contact information, be prepared to answer questions about your education, work experience, availability, prior experience at animal organizations, areas of interest, skill sets, foreign language abilities, and references.
Before you submit your application, be sure to read everything in the section labeled "Waiver of Liability / ECS / Photo Release." This section includes comprehensive information about the mental, physical, and emotional capabilities all volunteers are required to possess – for example, "Ability to stand for significant periods of time while walking dogs, assisting the public with visits, or cleaning condos/kennels." The section also includes some additional information about supervision and liability.
Atlanta Pet Sitting and Dog Walking Services 
Hopefully, you're well on your way to meeting your new best friend – but after Fido is situated in your home, there are going to be times you have to travel and need to hire a pet sitter.  Whenever you need to book a caring, reliable dog sitter or dog walker in Atlanta, call Critter Sitters at (404) 973-2541.  Our team includes Buckhead dog sitters, Sandy Springs dog sitters, Smyrna dog sitters, and more.  (We also look after cats, birds, fish, and other pets, too!) 
Cuteness alert!
A true work of art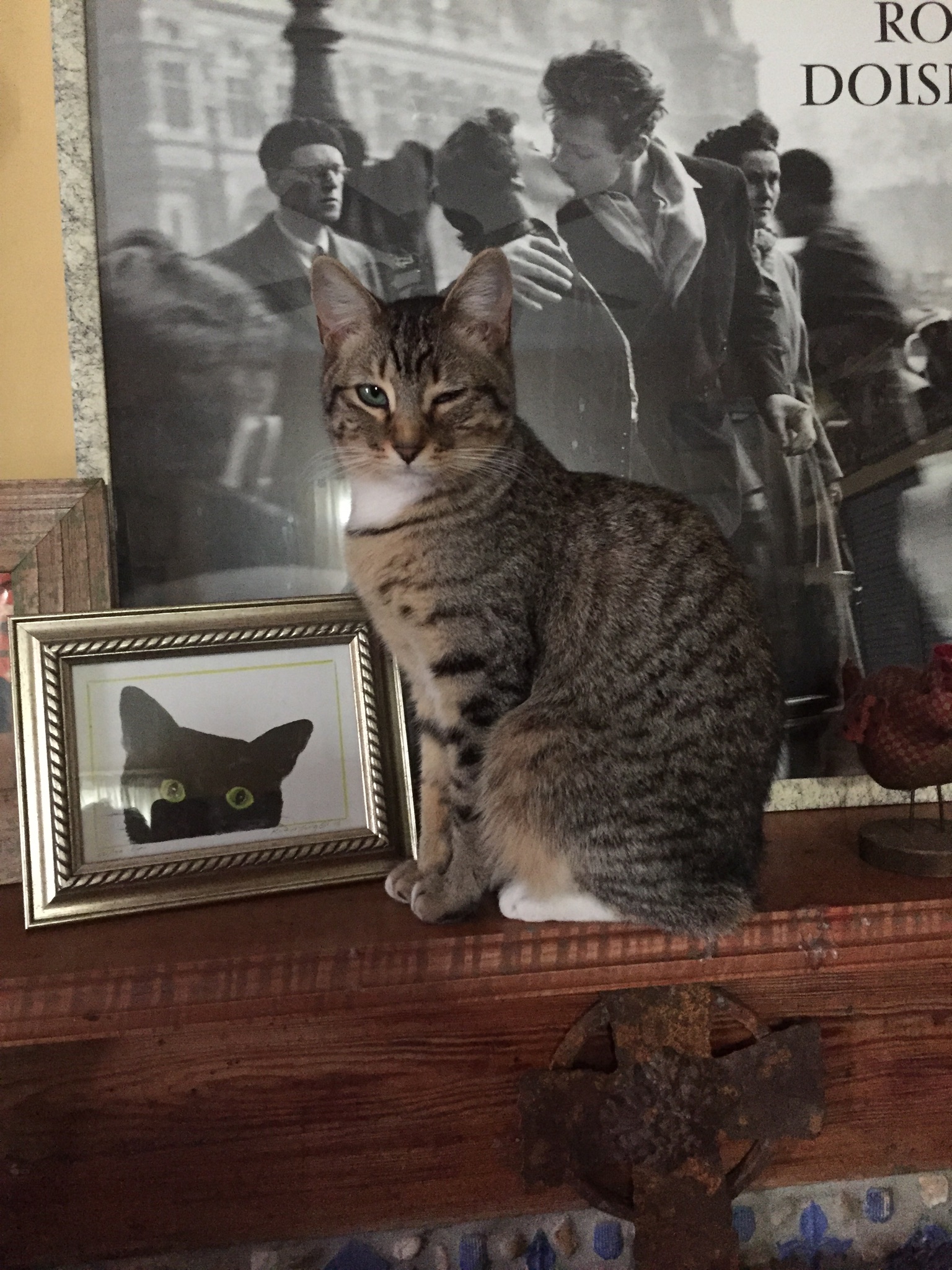 Popular Tags