April 24, 2016
How Much do Pet Sitters Make?
By: Hillary Brown
Have you ever thought about quitting your desk job to do something you really love? Do you spend your days in the office daydreaming about frolicking with your four-legged friends? Some people who leave cubicle land wind up pet sitting, thinking they can make a living. They may be mistaken. In general, no one gets into pet sitting for the money. The first motivation is almost always love of pets, but it's worth considering the numbers. This is true for potential pet sitters as well as clients. After all, clients want great service, and most understand that a pet sitter working on starvation wages may have other priorities than their pets. Much better if the sitter is a reasonably well-compensated professional.
How it Works in Georgia
To figure out whether your pet sitter falls into the professional category, we need to dig into the economics of the business, at least a little. Most Georgia pet sitters charge about the same amount for a basic visit, regardless of whether they are individuals advertising through Craigslist or flyers on bulletin boards, companies like Rover.com that connects freelance sitters with those who need pet sitting, or a full-service dog sitting company that offers experienced professional care. The average Atlanta dog walk (midday) runs about $17 for one dog, and a few bucks more for each additional dog. At Critter Sitters, we charge $17 to walk one dog for about 20 minutes, plus $3 for each additional dog. Out-of-town service for you on vacation or business travel runs around $20 per visit, a few dollars more per additional pet, and includes services such as bringing in mail, cleaning litter boxes, etc. For this full service, we charge $19 for the first animal, $3 for each additional dog and $2 for each additional cat or other pet.
Like most services, after the basics the full cost can get complicated. Some pet sitters have an upcharge for holidays, late evening visits, giving medication or injections, distance traveled, key duplication and even for the initial client meeting, among other so-called "extras." At Critter Sitters we decided 40 years ago that having one simple price makes the most sense to clients, and we have stuck with that philosophy. But that's not the only difference between our company and almost all the others.
Pet Sitting Websites
Most pet-sitting businesses advertise on job boards that they pay their sitters $8 or $9 per visit out of the $19 or $20 they charge. There are chances for some of them to make more from those upcharges, but the company keeps more than 50 percent of the base rate. Granted, the company helps sitters find clients, does advertising and handles a lot of customer service, but when you factor in travel time and expense, this is about minimum wage.
Individual sitters might promote their services on Craigslist, pay nothing for advertising and keep everything they earn (minus taxes and expenses), but it's hard to find clients and hard to stand out from the crowd. How do you differentiate yourself, and how do clients know they can trust you if they don't already know you? Reviews can help, but larger, well-established competitors earn the majority of new business. Without volume, no individual pet sitter can begin to make a living.
Rover.com seems to offer a middle way: a sharing-economy Uber for pet sitting that connects clients and sitters. It lets sitters set their own rates (which seem to range from $17 per visit up to $30) and keeps a flat 20 percent off the top (15 percent for people who joined before a certain date), plus it has the right to charge pet owners extra fees, which you'll find in the fine print. It keeps 25 percent of the earnings of sitters who join RoverGO, its premium service, which gives those sitters a boost in the search rankings, a session with a professional photographer and other benefits, but requires a minimum one-year commitment or the sitter has to reimburse the company for many of these charges. Rover.com does offer insurance that covers up to $25,000 of medical bills resulting from illness or injury where the sitter is at fault, after a $500 deductible is met, but the terms of service spell out many areas in which the company will not pay out.
Pet Sitting Insurance
Speaking of insurance, having protection, whether a commercial policy or self-insured, is good practice for anyone caring for someone else's loved pets and home. Organizations such as the Georgia Network of Professional Pet Sitters require members to be insured, and national associations, such as NAPPS, teach it as a best practice. Insurance is not inexpensive, and the cost borne by the company is passed along in its rates. Larger organizations doing more business can absorb it more readily, and many but not all of them include it as a benefit for sitters who work with them.
From this review it looks like most sitters, except for individuals who have many regular clients, are working for peanuts. Minimum wage is minimum wage. Even being generous and saying a sitter nets $10 a visit and gets assigned eight visits a day means she's taking home less than $30,000 a year, and that's working seven days a week with no vacation. In fact, the business is not that consistent. It's seasonal. The winter is slow. And it's rare to have as many visits on weekdays as on weekends. When you crunch numbers it sounds less and less attractive, no matter how much you love pets.
Why We are Different
Critter Sitters is a little different. First, our sitters work for themselves under a license agreement that mandates procedures and controls quality. Everyone works from the same fee schedule. The clients pay the sitters, and the sitters pay their managers, who then pay the company. Doesn't this encourage fraud? It does not.
Our CEO and president, Jeffrey Lauterbach, says, "honesty is generally rewarded with honesty. Also, from years of experience we can spot people who may be cheating. It always seems to come out." The sitters pay their managers on the same day each month after the end of the preceding month. Sitters can make their earnings work for them in the meantime, especially if they invest them wisely. In other words, the company rewards and supports their entrepreneurial commitment.
This commitment extends to providing an incentive for growth. Sitters work on a license fee schedule that starts with their keeping 70 percent of the first $600 they earn each month, and paying lower percentages of amounts above that. The managers aggregate the totals of all the sitters in their territories and pay on a similar schedule. Lauterbach says, "We reward sitters who work hard, provide great service and build up repeat clients."
Sure, but how many sitters with the company make that kind of money? Lauterbach says that more than you would think have the persistence to work at building their businesses and wind up making over $50,000 a year, after license fees but before taxes and travel expense. Just as with client pricing, there are no extras in the Critter Sitters model. The company provides everything a sitter needs to be a pet sitter, except for reliable transportation, and there is no upfront fee of any kind, although the company is quite picky about screening newcomers.
Another difference is that Critter Sitters provides and honors geographic territories. Sitters can count on receiving all the business that comes in. Sitters who work for themselves or for companies who don't have territories face more competition for the same amount of business. Lauterbach says, "Territories protect sitters with the expectation that they will service all business that comes in within their territories."
Boiled down, this means that Critter Sitters get to keep more of the money they earn than do sitters at many comparable services. What's more, they also benefit from nearly four decades' worth of experience, organized competent management, and resources (like our relationships with vets, who frequently recommend our services, promotional efforts, professional designed materials and an outstanding website). All of this adds up to a vibrant community tended by the company and featuring many sitters who have been with us for 10, 20 and even 30 years.
Interested in Becoming a Dog or Cat Sitter?
Critter Sitters have camaraderie, as well as the ability to build something that can be worth a few dollars if they ever retire plus the self-esteem that comes from being one's own boss. Over 40+ years Critter Sitters has created hundreds of jobs, almost all for women, who became more positively put together because of their assumption of responsibility and personal success. For the right self-starter-type person who loves pets it's a great opportunity. Critter Sitters, Inc. is far and away the largest and oldest professional pet sitting business in Atlanta, and the largest and oldest in the country. "We believe our business model produces successful, highly motivated, and professional sitters who will provide high-quality care because they have personal loyalty and commitment to their clients," concludes Lauterbach.
Cuteness alert!
A true work of art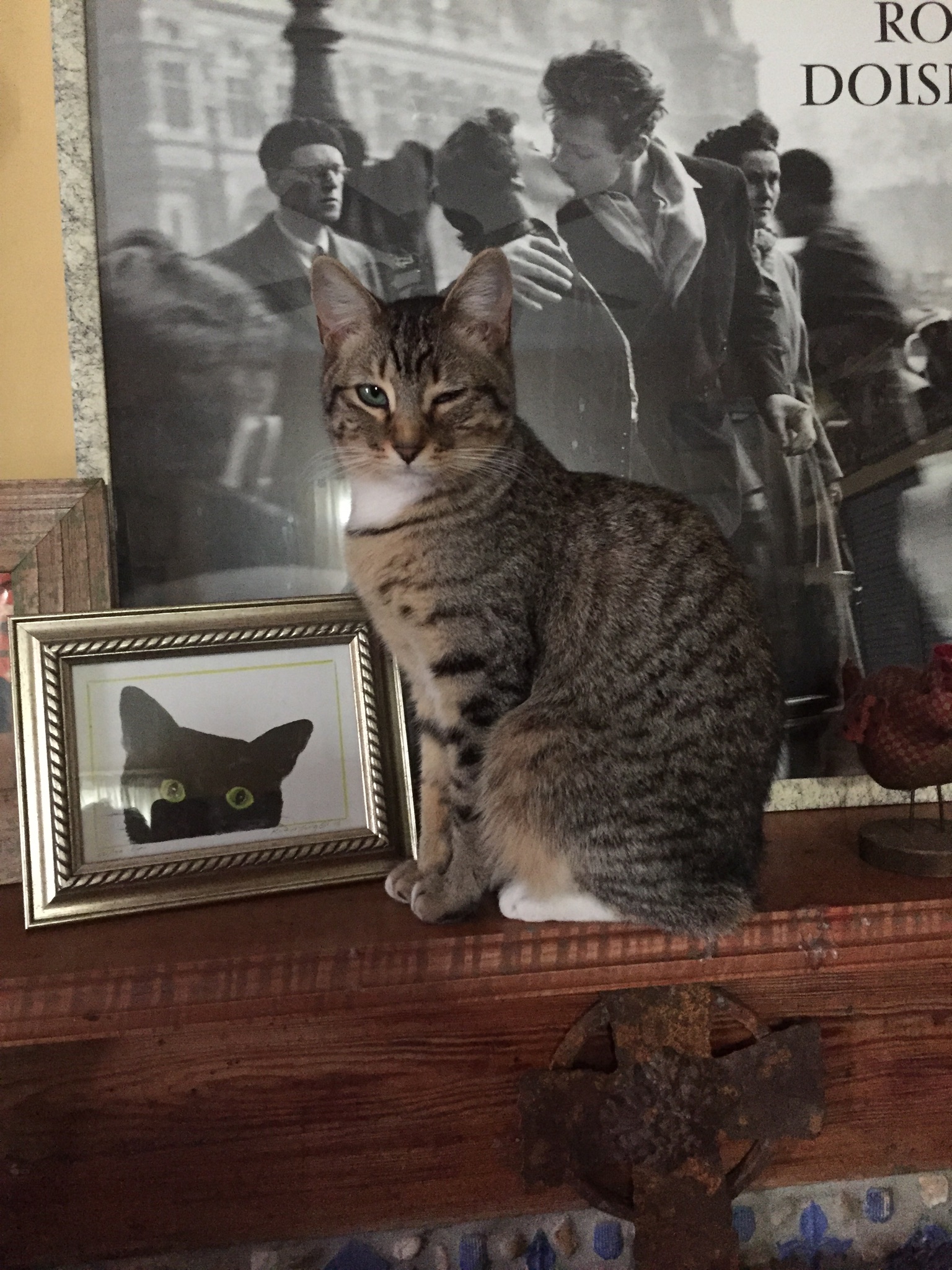 Popular Tags